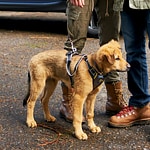 At Volvo Cars of Macon in Macon, GA, we love helping dog owners find the perfect vehicle for them and their pets. Whether you want to run errands with your pet or take long trips and have an adventure with them tagging along, it is important to have a vehicle that makes them comfortable also.
Looking at safety ratings will help you find a good vehicle for your pet because the safer the rating, the safer your dog is. The next thing you may want to look at is how feasible it is to keep it clean regularly.
The cargo space is critical if you have a large dog because it can be an area where they arrest or where you put a kennel for them. If they like sitting in a seat, it is crucial to have them harnessed, and you may want to have seat covers installed.