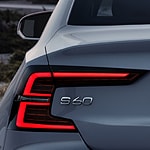 The Volvo S60 is a sign of the manufacturer's goal of abandoning its more utilitarian designs in favor of competing with more luxurious vehicles in the market, and the exterior features it has back up its approach.
Aside from the typical changes made to the profile as well as the LEDs used on the front and back, the vehicle already has a good amount of traits worth going over. Visual additions to the vehicle, like the new grille design as well as the functional sunroof, are always welcome for any vehicle, but some of the more interesting details are ones that better assist a driver.
The windshield now has a heads up display, allowing the driver to check out their speed or navigational turn arrows while focused on the road; additionally, the Volvo S60 makes use of driver-assist technology to ease the ride for any driver.